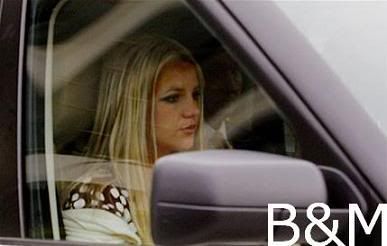 Thanks alot to BreatheHeavy!
8:00 am: The madness has already begun. There are dozens of photographers, a large crowd of reporters, police, even helicopters outside the court house. Britney is currently on her way with one of her lawyers for her big custody hearing. Britney plans on asking for more custody rights. The court hearing officially begins at 8:30 am.8:02 AM PT -- Britney just pulled in. She is in the passenger seat of a white Range Rover. No sign of K-Fed yet
UPDATE 8:05 AM PT -- Britney is in the house and she looks gooood. She's wearing a brown polka dot dress with a small sweater over top. She's not wearing sunglasses. She's with her mom, her dad and her lawyer, Blair Berk. A spy on scene says she looks "gorgeous." She's been escorted to a private room in the back.
UPDATE 8:30 AM PT -- K-Fed just pulled in. He was riding in the seat behind the driver in a black Range Rover.
UPDATE 8:56 AM PT -- Britney Spears is sitting in a private room at the court house, waiting for her case to be heard. The commish has other cases on his docket this AM -- and we hear Brit and company should be called around 9:30 AM.
UPDATE 9:02 AM PT -- The hearing started around 9:02 a.m. PST in room 831 of the Los Angeles County Courthouse in downtown Los Angeles.
UPDATE 9:38 AM PT -- Britney Spears and Kevin Federline have just entered the courtroom and their case is about to begin. Brit walked in with her hands clasped in front of her, looking down. Someone told her she looked good and Brit just smiled back. According to all accounts, "Brit looks good." The media and everyone in the courtroom not related to the case, was asked to leave the room under the Family Code 214 which states: "Except as otherwise provided in this code or by court rule, the court may, when it considers it necessary in the interests of justice and the persons involved, direct the trial of any issue of fact joined in a proceeding under this code to be private, and may exclude all persons except the officers of the court, the parties, their witnesses, and counsel."
UPDATE 9:42 AM PT -- Kevin and Britney were both sworn into court. A motion to close the court was granted -- so everyone was kicked out. FYI -- Elliot Mintz, K-Fed's rep, got the boot too.
UPDATE 10:05 AM PT --
Britney is look extremely well put-together, sitting in the second to last row, wearing a silk brown dress with white polka dots underneath a
sweater
.Kevin looked calm as he was sworn in, but our girl Britney is reportedly a bit nervous, When asked to state her name, she responded with just "Britney"! The
judge
then said "we need your full name, please", and Britney obliged. The courtroom has been cleared of press because the next part of the proceedings will review and address sensitive matters.
UPDATE 10:25 AM PT -- Court has taken a recess and Brit is out in the hall looking very upset. Our spy says that while Britney isn't actually crying in the hallway -- but it looks like she might have been crying in court.Jamie & Lynne Spears are still in the courtroom with Britney's attorney, as is K-Fed and all his people.
UPDATE 10:28 AM PT -- Brit is back in the courtroom.
UPDATE 10:38 AM PT -- Britney is back out of the courtroom, smiling and holding hands with Blair Berk
UPDATE 11:52 AM PT -- Britney Spears and Kevin Federline (along with all their respective parties) are back in the courtroom after spending close to an hour in a private meeting room.Brit walked into the courtroom hand-in-hand with her mom Lynne. Could an amicable compromise be on the horizon?
UPDATE 12:06 PM PT -- The two sides are out of court and we're expecting both parties will have something to say. The hearing is done for the day -- no word yet on what went down.
12:15 PM PT -- K-Fed is outside talking to his attorney, Mark Vincent Kaplan, looking "very animated." We asked Kevin if he was happy with the results and all he did was smile.
UPDATE 12:17 PM PT -- We're told Allan Parachini, director of public information for LA County courts, will address the media about a "modification in custody." Sounds like good news for Brit!
UPDATE 12:21 PM PT -- K-Fed's attorney, Mark Vincent Kaplan, will address the media first.
UPDATE 12:40 PM PT - "A step going forward... We are pleased with the progress that seems to be occurring and cautiously are going down that track... Obviously it is something that is more than it has been. It's a step in the right direction... The order that was in place has remained in place with the exception that there has been some expansion of time. Other than that, nothing has been changed with respect to the on-going order."
Head on over to
TMZ
to see what is happening outside the
court house
, LIVE.
Stay tuned...